At Clarke Energy, we understand that the reliability of your equipment is vital to ensuring optimum operation and, most importantly, reducing maintenance 'down time'. Continuing our commitment of providing the highest level of after-sales assistance, we offer specialised, customer-orientated training programs which are adapted to the training and learning requirements of individual organisations.
Catering for all levels of service technicians, from beginners through to highly experienced personnel, our training focuses on delivering in-depth product knowledge, and applications knowledge sharing, combining both theoretical and practical components.
Clarke Energy's Commissioning & Training Manager, Cameron Cole, recently delivered onsite INNIO Jenbacher training to Territory Generation team members at the Owen Springs Power Station in the Northern Territory.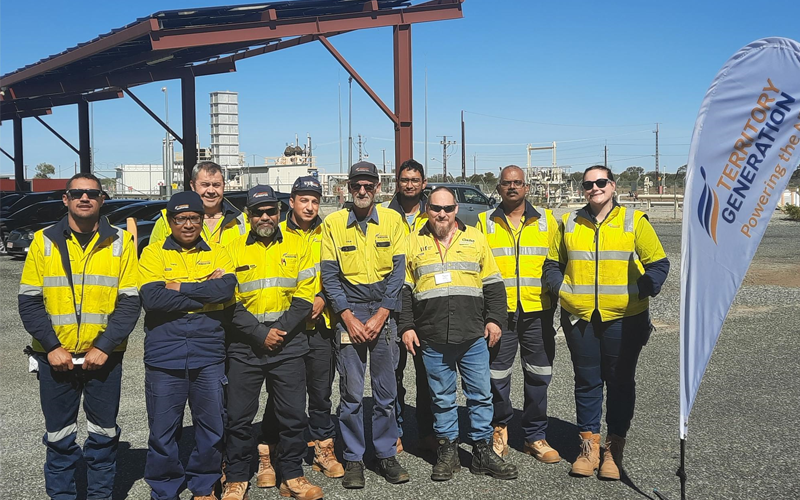 Territory Generation is the Northern Territory's largest electricity provider and, since its inception in 2014, has secured a reputation as the state's most trusted and respected energy services business.
For the nine Territory Generation participants including site operators, maintenance team members, and engineering personnel, the onsite, two-week training course provided valuable insights into the design, operation, and maintenance of the ten Jenbacher 624 engines installed by Clarke Energy in 2017.
The training covered multiple facets of the equipment, including:
A comprehensive overview of the Jenbacher gas engine technology
The ability to understand operating documents and their structure
Insights into the structure of a Jenbacher gas engine module and individual component terminology
Providing the necessary knowledge to successfully operate Jenbacher gas engine equipment in manual and automatic modes
Providing knowledge of the functions of the electrical components of the engine and in the control cubicles
A detailed insight into wiring diagrams and the relevant technical instructions
The ability to identify malfunctions with Clarke Energy's checklist for troubleshooting and being able to rectify issues
For Clarke Energy, the training was a welcome return to the Owen Springs Power Station, after being awarded the design, engineering, procurement, and construction of the project, and the ongoing service and maintenance.
Cameron Cole, Commissioning & Training Manager, Clarke Energy, says:

" At the conclusion of the training, Territory Generation participants had gained greater technical knowledge and confidence when maintaining and servicing Jenbacher engines. Being a factory certified trainer with direct access to the latest training and developments, we share this knowledge directly with our customers and channel partners."
To find out more about Clarke Energy's customised training programs, contact us today.