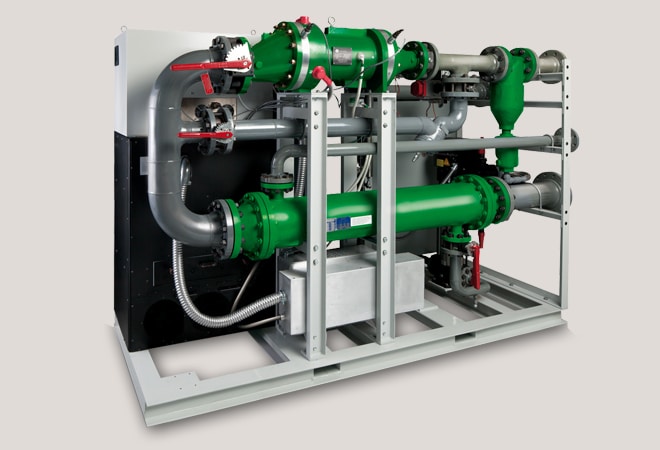 Clarke Energy has secured its first order for a revolutionary technology that creates electricity from waste heat. Agri-gen a developer of anaerobic digestion plants has signed an order with Clarke Energy to supply the system to its Rendlesham anaerobic digester in Ipswich.
Clarke Energy secures its first orders for two of GE's Clean Cycle*  heat to power generators
Under the local temperature conditions the two units will boost total output by 228kW, equivalent to 540 standard UK homes.
Units will raise the electrical efficiency of the gas to power plant from 43.0 to 46.2% generating significant additional revenue from biogas feed in tariffs.
In early 2013 Clarke Energy supplied and commissioned a 3MW biogas engine at Agri-gen's Rendlesham anaerobic digestion plant at Bentwaters Parks, Ipswich. This facility digests energy crops such as root vegetables to produce biogas. Biogas is a source of renewable energy and is used to provide sustainable power to the surrounding area.
The jacket water from the gas engine was used to heat the anaerobic digesters; however there was no immediate local use for the heat from the exhaust of the engine which was vented to atmosphere.
Agri-gen recognised the potential value of this waste heat as a driver for additional renewable electricity and in September 2013 contracted with Clarke Energy to supply two Clean Cycle units.
The heat conversion process, known as Organic Rankine Cycle (ORC), uses an organic working fluid and a small generator to turn the waste heat from the gas engine into additional electrical energy. In the new configuration jacket water heat from the gas engine is used to heat the digesters and in parallel pre-heat the Clean Cycle working fluid.
The ORC units operate in a closed loop and there is no waste or emissions from the system.
Under the local conditions the units will initially generate a total of 228kW for export to the local grid. As the system works on the basis of a temperature gradient the ambient temperature of the site is an important factor. Under the current feed in tariff of 9.24p/kW hour the units will generate in excess of £160,000 per year for the plant just from waste heat and in addition to the revenues from the original biogas engine.
Graham Thorne from Agri-Gen stated:
"The electrical efficiency of our Jenbacher biogas engine is market-leading. However, we also recognised the potential for the utilisation of the waste heat to generate additional electricity. We selected Clarke Energy to supply us with GE's Clean Cycle ORC technology to boost the plant's performance further and deliver one of the most electrically efficient biogas facilities in the UK."
Haydn Rees, Managing Director of Clarke Energy stated,
"The use of ORC technology has significant benefits for our customers. Surplus heat from the CHP engine can be converted into additional electricity, generating additional revenues for the biogas plant".