Clarke Energy were honoured to have the British Deputy High Commissioner to Cameroon, Mrs. Sharon Ganney, inaugurate a recently opened combined heat and power (CHP) plant installed at Agrocam in Douala, Cameroon. The inauguration was followed by seminar held by Clarke Energy's operation in Cameroon on the subject of "Energy Efficiency and Cogeneration in the Industrial Sector."
Clarke Energy installed the Jenbacher J316 engine at Agrocam's leading poultry hatchery to address the fundamental challenges related to long-term power outages, which have a great impact on poultry breeding in Cameroon. Agrocam had previously used a diesel generator as backup to the grid to ensure routine operation of its hatchery, which proved to be costly given the prolonged hours of grid power outages in addition to the higher levels of emissions associated with diesel generators.
During the seminar that followed the inauguration the British Deputy High Commissioner to Cameroon commented "energy is essential for Industrial growth and is vital in the creation of wealth and jobs for Cameroonians. The British Government through the High Commission in Cameroon is proud of the work that Clarke Energy has done here and are keen to encourage them to do more for the good of Cameroon's economic emergent agenda"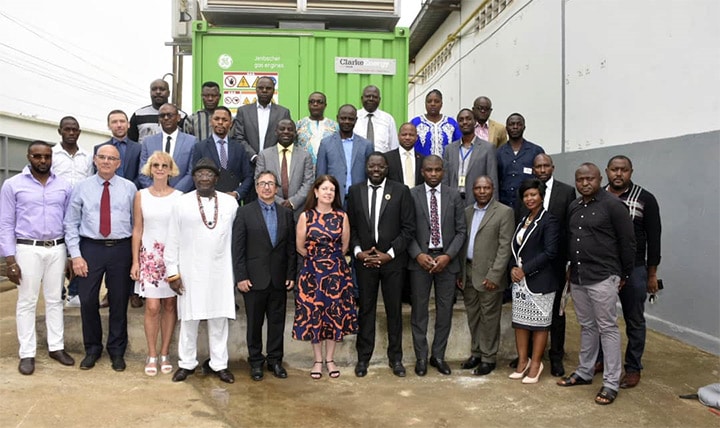 Clarke Energy's management team then highlighted our expertise in energy efficiency across the twenty-five countries in which we operate in. This was followed by long-term clients and partners in Cameroon testifying the suitability of gas engines for power generation to provide all or part of their electricity and heat requirements. In particular highlighting that solutions are able to provide resilience of power supply, helping avoid recurrent electricity cuts that directly affect the productivity of the customer's factories and subsequently deteriorate the competitiveness of their products.
Clarke Energy has been operating in the African continent since 1998 and has an installed power base of 800MW, with 180 employees serving 16 African countries from five regional offices Douala, Lagos, Johannesburg, Dar es Salaam and Tunis. Clarke Energy employs a regional team to ensure the commissioning and maintenance of its facilities in Cameroon is serviced by local engineers, meaning in the event of any issues, downtime for an engine will be as short as possible as engineers can be sent immediately to site if needed.