Power Supplies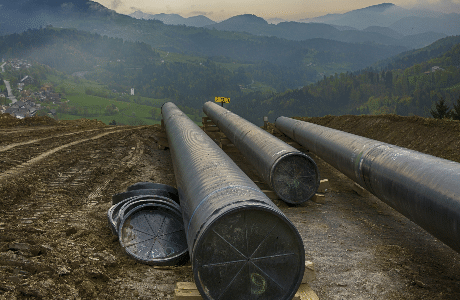 The lack of reliable, cost effective power is a massive drain on Africa's economies. The continent's power supplies are characterised by being excessively powered by high cost liquid fuels such as diesel and the intermittency of mains electricity.
The world's power supply mix is moving towards one with increased renewable energy and a larger role for gas as a fuel source. Sub-Saharan Africa does not lack natural gas reserves. There are significant deposits in a number of countries including Nigeria, Mozambique and Tanzania. There are also large untapped shale gas reserves in South Africa.
Gas is both cost effective, being significantly lower in price than diesel, and also has much lower associated carbon dioxide emissions than other fossil fuels. In addition to this if the fuel is used for embedded generation and combined heat and power (CHP), fuel efficiency levels can exceed 90%. CHP is the generation of electricity and recovery of heat for local use. It can be taken a stage further with absorption chilling technology which is then called trigeneration. This delivers a local source of cold water for refrigeration or air conditioning. Gas is also able to be stored and electricity derived from it used to balance mismatches in demand and supply – such as that created by varying levels of consumer power demand throughout the day, or alternatively intermittency of renewable energy.
Africa has the potential to be striding ahead, however two big hurdles are the speed of gas distribution network development and the availability of gas supplies.
Gas Distribution by Region
In Nigeria there is now a well-developed gas distribution network in and around Lagos. The first gas-fuelled captive power plant in Lagos was located at a now closed tyre factory. As consumers gained confidence in the stability of gas supplies this approach was rolled out to many high profile industrial players. However the north of the country lacks any gas supplies and there is currently no pipeline natural gas available in Nigeria's capital city Abuja, nor in Kano, the major northern city.
Tanzania and Mozambique's gas reserves have primarily been developed by the oil and gas industry to export as liquefied natural gas for use in other countries. The Tanzanian government included the requirement that some of the gas must be destined for local markets to facilitate power generation. The first gas pipeline from the south of the country soon reached capacity with a number of forward thinking industrial groups, developing captive power plants using the gas for reliable energy. An additional gas pipeline has recently reached the capital, and gas is now flowing, with food processors such as Bakhresa group developing high efficiency trigeneration facilities using GE's Jenbacher gas engines. During the period between the two pipelines being constructed the industrial facilities were suffering through high electricity costs and the government was forced to contract with high cost temporary power options.
In South Africa there is also a gas distribution network that brings gas down from Mozambique to some industrial users. There is also supplies of domestically produced 'methane rich gas,' however this gas is fully allocated and there is massive pent up demand for gas fuelled power with a strained national grid and power generation system. Importation of liquefied natural gas is a valid solution and is one that is planned for future, however the speed of the development of this project is incredibly slow. In the meantime the South African industry suffers and there is a drag on the economy.
Ghana too has domestic gas reserves. The Jubilee field was an early sub-Saharan African success story that initially was developed for oil and in late 2014 gas was sent to shore, however supply does not meet demand. Two further fields are due to come on line in 2017/18 but again there is the challenge of moving the gas to where it can be effectively used. The West African Gas Pipeline, delivering gas from the natural gas rich areas of Nigeria to Benin, Togo and Tema in Ghana was set to alleviate gas supply problems. The gas supplies have proved to be highly erratic and do not meet flows that were originally anticipated. The gas that is available has been sent to a local power station. There are some plans to develop a local gas distribution network to the industrial users in Tema, an industrial suburb of Accra, however with the lack of gas availability this has not yet been implemented. There are again plans to import liquified natural gas to the country but progress is again slow.
Sub-Saharan governments would be wise to create and deliver plans to increase the speed of gas distribution network infrastructure and prioritise energy efficient, low carbon technology such as CHP. Energy efficiency means the more effective utilisation of what is a finite resource with the technology being readily deployable for industry, district energy and cooling schemes and commerce. Less emphasis should be made on large centralised gas-fuelled power plants where there are more easy embedded generation benefits.